EFL Movie Study Guide for: A Charlie Brown Christmas (Snoopy's Christmas)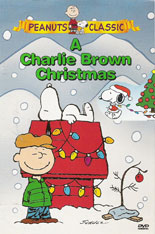 Story: Snoopy's owner (Charlie Brown, age 8?) is depressed at Christmastime because of the commercialism of Christmas; that is, everything seems to be about money and gifts, but it all feels "empty" and meaningless to him. It is affecting everyone from his dog to his little sister. When commercialism threatens to take over his grade-school holiday play, Charlie cries out "Can't anyone tell me what Christmas is all about?!" The answer is a refreshing part of Christmas for millions of Americans who watch this show annually. (Cartoon, comedy; Emmy-award winner; US TV classic from 1965; about 30 minutes)
Setting: Charlie Brown and his friends are in primary school. Many schools put on a Christmas play for parents every year, and these children are preparing for such a presentation.
Characters:
Charlie Brown: Snoopy's owner (see "note 1")
Sally: Charlie Brown's little sister
Linus: Charlie Brown's best friend
Sally: Linus' bossy big sister
Snoopy: Charlie Brown's dog, though he acts almost like a person in these cartoons, and he has a great imagination!

Note 1: Charlie Brown (they always use his full name) has come to symbolize the child who is unpopular because of his looks, handicap or reputation for "bad luck." Things don't naturally "go right" for this character, but he never gives up. This optimism in the face of difficulty has given Charlie lots of fans for over a generation.
Note 2: Because of the popularity of this classic, a ugly tree at holiday time is sometimes called a "Charlie Brown Christmas tree."
A few terms (vocabulary):
blockhead: (negative, rare, and specifically related to Snoopy cartoons) a very stupid person; to call someone a blockhead is to say he is like Charlie Brown
*commercial: relating to profit from business or trade (can also mean "for industrial use")
*commercialism: (negative) an overemphasis on making money instead of selling quality products or focusing on the deeper meaning of a holiday, birthday, etc.
*depression: (抑郁症?) a medical condition involving too much worry, sadness and/or hopelessness ("Did you know that many people say they suffer from depression during the holidays?")
*to memorize: to put something into your memory (e.g., to learn a poem by heart). Note: Chinese English-learners often misuse this word by saying they memorize a person or historical event (which is not possible); you remember or honor people, and they can be memorialized (a passive verb) for their contribution or example. We commemorate events or contributions. We can also remember our loved ones at a memorial service after they have passed away. People sometimes build a memorial or monument to pay tribute to or honor (or memorialize) a person or event.
"rats!": an informal term used to show that you are disappointed or annoyed (Charlie Brown says it a lot, so it is often associated with this character)
*real estate: land or buildings, especially in terms of buying or selling such things ("People always buy me dumb toys for Christmas, but what I really want is real estate.")
Discussion:
1. Studies show that a lot of people get depressed during or just after holidays like Christmas. Tell your partner why you think this happens, and what depressed people should do about it.
2. According to Charlie Brown's friend Linus, what is Christmas all about? Explain it to your partner.
3. Charlie Brown refused to "just go along" (agree) with what everyone else thought was normal when he felt sure there was something better or more meaningful available. When it is good to "go along" with everyone around you, and when is it better to find or make your own way?
(For more information about Christmas, see these Christmas pages on our website: the traditional Christmas story, who is Santa (圣诞老人)?, candy canes, Christmas Perspectives (poem), and the pre-Christmas Advent season. Also look for Christmas wallpaper here. You'll also find movie study guides on this website for some great holiday films: A Snoopy/Charlie Brown Christmas, Last Holiday, White Christmas, The Grinch, Christmas Carol, It's a Wonderful Life)