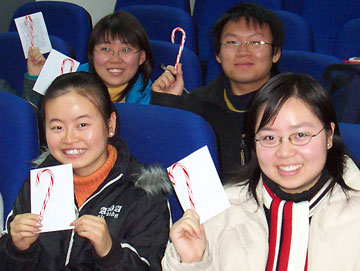 According to legend, an English candy maker in the 1700's created the candy cane to express his faith at Christmastime. Since Christmas is the celebration of Jesus Christ's birthday, he chose white to symbolize the purity of this holy child. The flavor is peppermint, chosen for its strength (a big spoonful flavors 50 kg of candy!), and to recall the spices given to the baby by visiting Wise Men. The candy maker wrapped a wide red stripe into his creation to represent the sacrifice of Christ (whose "blood" made forgiveness and a relationship with God possible). Next, he added three smaller stripes to represent the Trinity (God the Father, Son and Holy Spirit). Finally, he bent the candy to shape the first letter of Jesus' name. Upside down, the candy cane looks like a shepherd's "crook" (or stick)—reminding us of both the shepherds in the Christmas story and of Jesus, the "Good Shepherd." The "J" shape also allowed candy canes to be hung from Christmas trees, which may also be why it has been a popular Christmas symbol and treat for over 200 years!
The photo shows some of my 2004 students, holding up candy canes sent by a friend in America. By 2007, we were able to find the treat in China! When we give out this candy, we like to attach the above introduction. Four copies can be printed on A4 paper if you make it the size shown below.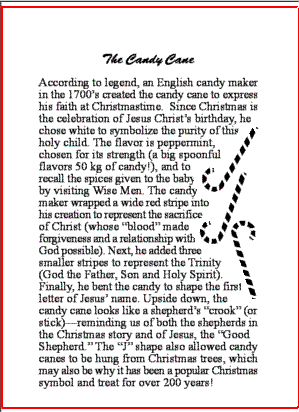 (To learn more about Christmas, see these Christmas pages on our website: the traditional Christmas story (speech), who is Santa (圣诞老人)?, candy canes, Christmas Perspectives (poem), A Mary Christmas (speech), and the pre-Christmas Advent season. Also look for Christmas wallpaper here. You'll also find movie study guides on this website for some great holiday films: A Snoopy/Charlie Brown Christmas, Last Holiday, White Christmas, The Grinch, Home Alone, Christmas Carol, It's a Wonderful Life; Christmas also plays a part in these films: Ben Hur, The Greatest Story Ever Told...and several more!)

This resource was created for our students under my understanding of "fair use" for educational resources.
As far as I am concerned, people are allowed to print/copy it for personal or classroom use.