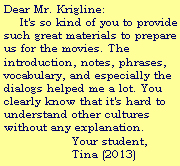 Some of the films we have materials for:
Paulie: family comedy/drama that shows various aspects of US life; 91 minutes
Family Man: drama that shows American life, and the need to make wise choices; 2 hours
Disney/Pixar's Finding Nemo: cartoon, family comedy, adventure; 100 minutes
Finding Forrester: drama with educational themes; under 2.5 hours
Patch Adams: comedy, drama, US history; dare to be different!; under 2 hours
Snoopy's Christmas (actual title: A Charlie Brown Christmas): cartoon comedy & holiday classic; under 30 minutes
Last Holiday: comedy, drama--are you living out your "possibilities"?; under 2 hours
House MD: Pilot/Maternity/Christmas; episodes in a US TV series about medical diagnosticians; under 40 minutes
Return of the King (Lord of the Rings III); 11 Oscars! Drama, adventure, romance; 3:15 hr
Finding Neverland: friendship, drama and a bit of history; 100 min
Rudy: drama, sports; helping others succeed is a worthy goal; 2 hrs
Ben-Hur: 11 Oscars! Romance, action, drama, history; 3.5 hours
Ever After: romance, humor, and a bit of history; 2 hrs
Narnia 1: The Lion, the Witch and the Wardrobe; fantasy/adventure; 2 hrs
Narnia 2: Prince Caspian; fantasy/adventure
Lost Worlds, Life in the Balance: documentary about biological diversity & the environment; 40 min
Titanic: (there are several films on this subject) romance, drama, history; varying lengths
Second Hand Lions: comedy, drama; how do you know who/what to believe?; 2 hrs
Cool Runnings: the Olympics/sports, history, comedy; 2 hrs
Chariots of Fire: the Olympics/sports, history, values; 2 hours
Disney's Jungle Book: cartoon, comedy, musical, adventure; 78 min
Air Bud (3)--World Pup: family comedy, sports, teen romance; 83 min
An American Tail: cartoon about immigration to the US in the 1800s; 80 min
Baby's Day Out: comedy (without a lot of words!); 100 minutes
The Russians are Coming: comedy/drama that makes you laugh AND think!; 2:05 hours
Unstoppable: action, thriller (starring a train!) 98 min
(Click on the titles at the top of the page to go to these resources)
If the Study Guide you want doesn't have much dialog from the movie, try http://www.imdb.com
(Right, and below) Vivian and I had a wonderful time with this group of students at the musical Les Miserables in Xiamen, 2013.